A secured way to transact
Pan-African secured PIN and chip proprietary cards are offered for use on all Ecobank ATMs.
Do you already have a Pan-African Account?
If not, visit the nearest branch card or dial *777#, select Mobile Banking Option and follow prompt to request for ATM Card.
Enjoy anywhere, anytime financial services on ATMs across the country
Our ATM services include
• Cash withdrawals
• Balance enquiry
• Mini-statement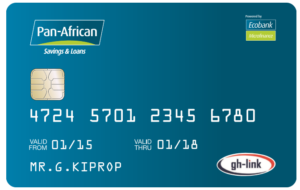 ATM CARDS FREQUENTLY ASKED QUESTIONS
What is the advantage of A Pan-African Card?
The Pan-African card uses the'' Chip and PIN'' technology. The technology allows your card details to be stored on a microchip which is embedded on your card. This makes it difficult for anybody to access your card information.
What does PIN mean?
PIN stand for Personal Identification Number. The PIN is a four-digit secret code that is known to you only. You will be required to use the PIN to shop at retail outlets (shops, supermarkets, clothing stores, restaurants, etc) online and cash withdrawals at ATMS. You MUST always keep your PIN private and confidential. You should never reveal it when you make online purchases, over the phone or by post, not even to bank staff.
What if my PIN gets locked?
Your PIN will be locked if you enter the wrong PIN more than three times. This is to protect you in case your card is stolen or misplaced and another person is trying to fraudulently use it. If your PIN gets locked, please contact the nearest Pan-African branch to request for a new PIN.
How do I withdraw cash from an ATM?
1. Insert your card in the designed slot. Ensure that the chip is face up and that the end of the card with the chip enters the ATM.
2. The ATM will ask you to input your PIN
3. You will be prompted to select an option, which may include Cash Withdrawal or Balance Enquiry.
4. Select the preferred option to complete the transaction.
5. The ATM will ask you to wait while it processes your transaction.
6. When your transaction is complete, be sure to take your card, cash and receipt before leaving the ATM.
Where can I use my Pan-African Card?
Pan-African cards can be used at over 2,500 Ecobank ATMS in 32 African countries.
Need more information?
Call 0307020707 or Whatsapp 0575557777 for assistance or visit the nearest Pan-African branch.