Pan-African is always excited to see our partners grow with us and our partnerships yielding economic empowerment that impacts individuals, their households and the society at large.
We celebrate all our customers who are influencing society and contributing to the economy of Ghana.
Below are but a few:
Cynthia Nyarko – Restaurant Operator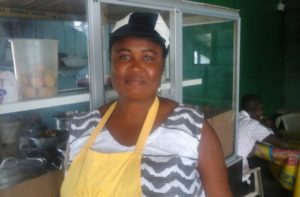 Cynthia Nyarko is a Restaurant operator and a mother of three. She owns a restaurant called Awurade Chop Bar located just opposite the Exim Guarantee Bank at Roman Ridge. She has been operating this business since 1996.  This is her story:
BEFORE PAN-AFRICAN: 
"I started the restaurant business at the railway junction, selling only cooked rice on a small table top with no sitting area.  I had just resigned from my former job as a Ward Assistant and needed to start a trade. I could by then only afford to sell very limited amounts of rice in a day with just a handful of customers who came to buy from me.  Sales were very low those days so I had an insignificant turnover which couldn't enable me expand as I wanted to."
GROWTH WITH PAN-AFRICAN
"I started doing business with Pan-African in 2011 and was granted my first loan the same year.  I have since then received other loan facilities from the institution.  The assistance has brought about tremendous growth in my business and I am thankful to Pan-African Savings and Loans".
The loan facilities granted to the client have enabled her expand her business and operating space.  Her restaurant now seats 25 people and she now sells a wide variety of food and drinks.  The restaurant has recently been given a make-over.  The client now employs the services of five staff to help her with the work.
Jacob Kwatia Amoah – Wholesale and retail shop owner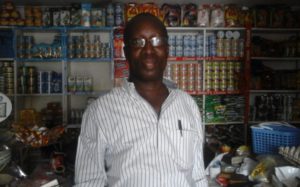 Jacob Kwatia Amoah is the owner of Jakmay Enterprise located in Roman Ridge. Jakmay Enterprise is a wholesale and retail shop for provisions, cosmetics and toiletries. Jacob is married and is blessed with a son.
PRIOR TO PAN-AFRICAN
Jakmay Enterprise started as a Cold Store in 2007 as well as selling soft drinks and bags of rice. The business was operated on a small scale as the container being used was small with limited clientele. The shop had just a few shelves on which the drinks and bags of rice were displayed. "We could only afford to go for just a small quantity of our supplies because our capital was not enough by then" he said.
GROWTH WITH PAN-AFRICAN
"The initial support I received from Pan-African was a loan facility which was used towards ordering additional stock. I eventually gave up the Cold Store business to enable me concentrate on the sale of provisions."
"The various loan facilities I was granted from Pan-African enabled me expand the shop, increase stock and sales. I therefore had to hire 3 staff to support my wife and I with the increased workload. I am now able to offer products on wholesale basis as well. "